The pandemic caused by the new coronavirus has already infected more than 3 million people worldwide, according to the United Nations, this is the most challenging global crisis since World War II.
The creation of vaccines and treatments for COVID-19 is a challenge for the scientific community due to its high virulence and transmissibility, characteristics of the new coronavirus, whose genome is highly polymorphic, with about 30 variations, according to a research by Zhejiang University (China).
In addition, immunological memory after the first contact with a virus, such as COVID-19 varies in relation to the immunity time, and may fail to protect the patient.
AMPARO® is an innovative approach that will interrupt the binding of viral particles to the target tissue or cell by interference before or after the viral adhesion process. Biocompatible nanoparticles functionalized with a recombinant human mannose-binding lectin (rhMBL) assume a nanostructured platform (AMPARO) capable of binding to various microorganisms with greater avidity, avoiding over-stimulation of the immune response.
Get to know how AMPARO® works
What are the benefits of AMPARO®?
What are the steps of AMPARO® functioning?
1
The infected patient, when feeling the symptoms, will seek the doctor responsible for its diagnosis and treatment.
2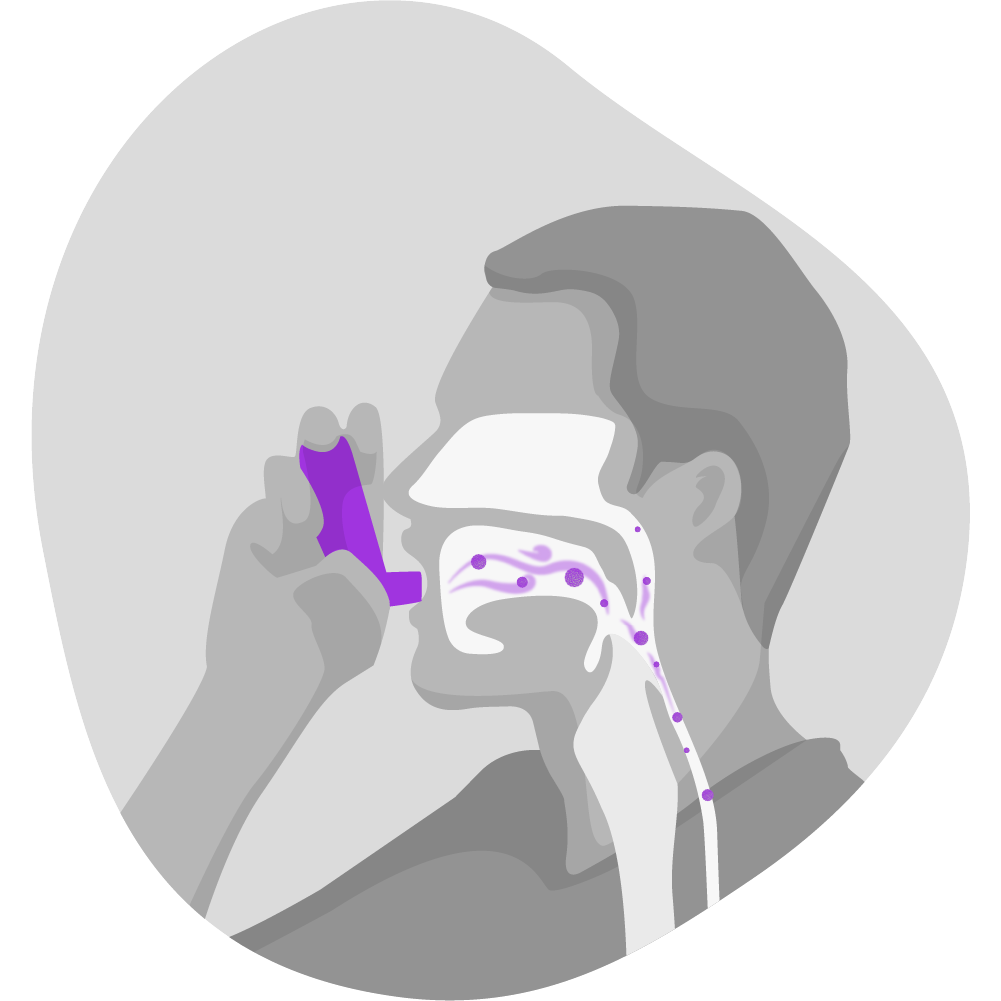 After being diagnosed with a respiratory viral infection, the physician will prescribe the use of AMPARO® through an inhaler.
3
The active substance composed by the Nanoarray AMPARO® will travel the entire airway.
4
The AMPARO® nanoparticles are deposited in the respiratory tissue and fight the viruses that it finds on the way.
5
Nanoarray AMPARO® will prevent viruses from continuing to replicate and activate the inflammatory system.
6
The nanoparticle will continue to release the active substance during its time of action, protecting and recovering the patient.
The project has the participation of more than 30 highly specialized biotechnology professionals who are coordinated by the team below:
Drª. Patrícia Moura
Science Team Leader
PhD in Biotechnology. Professor at Universidade de Pernambuco/ICB.
Dr. Fábio Formiga
Nanoarray Formulation and Characterization Coordinator
Pharmacist, PhD IAM-FIOCRUZ/UPE
Drª. Juliana Rebouças
Preclinical Tests Coordinator
Pharmacist, PhD. ICB-UPE
Gabriel H. Lins
Project Development Coordinator
Biomedical Scientist, Specialist in Clinical Neurosciences
Dr. Luydson Vasconcelos
Laboratorial Diagnosis Coordinator
Biologist, PhD. IAM-FIOCRUZ
Drª. Carinna Lima
MBL specialist Researcher
Biomedical Scientist, PhD UFPE
Dr. Adauto Barbosa
Lab Manager
Biologist, PhD ICB/UPE
International Entrepreneur, Business Director, and Founder of Of Joseph PB&T.
The initiative proved to be relevant in renowned media channels.
"Partnership between UPE and ofJoseph PB&T invests in alternative treatment for Covid-19"
"UPE researches new drug as alternative treatment for Covid-19"
"Partnership between UPE and Of Joseph PB&T Brasil to study innovative technologies with a focus on Covid-19"